Providing Tree Removal Services to Dallas and the Surrounding Area since 1976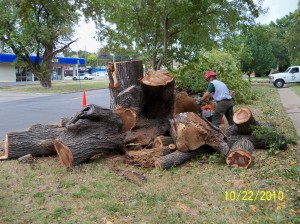 Trees that are close to properties and/or power lines can become hazardous. Protect your home and the homes of your neighbors by hiring a professional arborist for your tree removal. A full-service tree removal will completely remove the tree from the property including, limbs, trunk, stumps and roots. Tree Wizards' professional tree removal experts are experienced in the removal of large oak trees, pine trees, cedar trees and other trees common to the North Texas area.
Before implementing a tree removal, Tree Wizards' professionals first examine the tree to ensure maximum safety during the removal process. The safety of our clients, their families and the surrounding property is of paramount importance. Our tree removal professionals examine the tree for rotting wood and damaged areas as well as provide a detailed inspection of the surrounding area.
Once a thorough examination is completed and the area deemed safe, our tree surgeons remove the tree's large limbs, leaving only the trunk intact. Tree Wizard either disposes of the removed tree limbs or, if the client prefers, chop the limbs into smaller pieces that can be used as firewood and/or mulch.
After the cleaning of the limbs, the trunk of the tree is removed and ground down. Chemicals are often required for complete stump removal as well as to prevent the tree's roots from sprouting new growth.
Why Hire a Professional Tree Removal Service?
While many home improvement projects can be fun and rewarding for the avid do-it-yourselfer, a
professional arborist
should always conduct a tree removal. Hazardous conditions such as falling power lines and/or contact with power lines as well as the dangers associated with houses that are in close proximity of the tree are costly and can even be life threatening.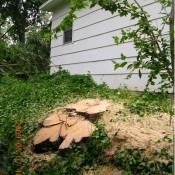 All
Tree Wizards' tree removal professionals
are insured, licensed and bonded. We guarantee job-site safety and 100% customer satisfaction.
When is the Best Time to Remove a Dead or Rotting Tree?
Texas weather is often unpredictable, which is why we recommend removing a dead or rotting tree as soon as you notice the tree's failing condition and definitely before a heavy storm. A dead tree that falls during a storm can easily cause damage to your home and vehicles as well as neighboring homes and vehicles parked along the street, driveway or alley. In the event of disaster,
Tree Wizard provides emergency tree removal
.
What is the Cost of a Professional Tree Removal?
Because the cost of removing a tree varies depending on the size of the tree, the proximity of the tree to other structures as well as the hazardous conditions specific to the tree's removal, we offer complimentary estimates for every job.
Call Tree Wizard Today & Schedule a Complimentary Tree Removal
and/or Stump Removal Estimate
214.680.5885