White Rock Tree Wizards specializes in East Dallas trees and the problems trees can encounter in the often challenging Texas weather. We are committed to 100% customer satisfaction (see testimonials) and take the extra steps necessary for quality work including: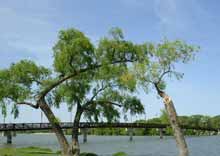 Sterilizing tree saws to prevent the spread of tree diseases.
Treating tree wounds to prevent rot and fungus from infecting a recently trimmed tree.
Remembering not to trim certain trees during the time of the year when then are most in danger of infection.
Taking advantage of city bulk trash pickup to save our customers money.
White Rock Lake Park Project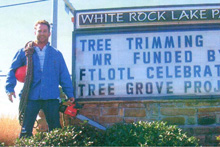 White Rock Tree Wizards is often known as the "the first and most acclaimed tree care company to do work in the park in the last 20 years". White Rock Tree Wizards was selected in 2007 to provided much needed tree care to over 400 trees in White Rock Lake Park. Working for almost a year and half on improving the health of the park's trees, Jim and his crew worked closely with the "For the Love of the Lake" community group and the Dallas Park and Recreation.
"White Rock Tree Wizard's work has made a major impact on the lasting beauty of White Rock lake."
About the Owner: Jim Chase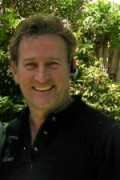 Jim Chase has been in the tree care business since 1976. With a Bachelor's Degree in Business and a Doctorate in Divinity, Jim combines his 30+ years of experience in tree care with a strong sense of ethics and business-like customer focus.

Save