We offer tree cutting in Dallas at affordable prices and with free estimates. Since 1976 our tree cutting and removal service has been providing home owners with dead tree and fallen limb removal. At the first signs of deadwood, have our professional arborists examine the tree for possible repair. Some trees can be saved, while others will become dangerous in heavy winds and storms. Having an expert examine the property and estimate the cost of cutting down the tree could save you from unwanted damage to your home. A fallen tree limb can cost 10 times as much in damage. Having a tree cutting expert remove the limb before damage saves you money and headaches.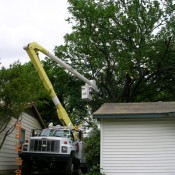 For quality tree cutting services, we are available for removal, stump grinding and emergency tree services in the Dallas, Texas area. When you need your tree removed, we will provide free tree removal estimates. From beginning to end, we provide Dallas the best tree cutting services available. Our expert arborists are ready to help save your tree, or remove dangerous limbs and deadwood. Tree cutting cost is inexpensive compared with the damage a fallen limb can create during a heavy wind storm.
Our expert Arborists offer Tree Cutting in Dallas
Tree cutting is the procedure of topping, trimming, pruning, cutting limbs and trunk removal. We use professional equipment to completely remove the tree including stump grinding equipment and crane service. As your full-service tree company we are equipped and can provide complete removal of any tree. Having a professional tree cutting company remove your hazardous tree will decrease the danger you face in the event of a storm. We understand the importance of providing homeowners a professional service, that is safe and costs less. White Rock Tree Wizards is your friendly and professional service for all your tree cutting needs.
Contact us for a free tree removal estimate. We are available for Tree Cutting in Dallas, Garland, Richardson, Irving, Mesquite, Rowlett and Rockwall.